News & Announcements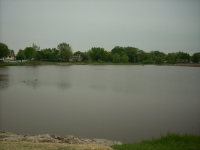 Mayor Kyle R. Hastings and the Village Trustees have taken action to improve the Lake Lorin shoreline erosion that has taken place over recent years.
Following a recent Village board meeting that was attended by over 25 Lake Lorin area residents, Mayor Hastings met with the Village department heads and the Village engineer to tour and inspect the entire Lake Lorin area.
The Village of Orland Hills Public Works Department is seeking PART-TIME applicants. Applicants must be able to work various hours and be able to lift a minimum of 50 lbs. Responsibilities are to assist the Public Works Department with general building maintenance, park maintenance and ditch and retention pond maintenance along with various job duties.
Applicants will be required to work shifts Monday through Friday of either:
7:30am - 11:30am
12:00pm - 4:00pm
The hourly wage for these positions is $8.25 per hour.
Positions open until filled. Application forms may be obtained at the Village Hall located at 16033 S. 94th Avenue, Orland HIlls, IL. Office hours are Monday - Friday, 8:00am - 4:30pm and Tuesday evenings until 7:00pm.
Applications are being accepted in the Village Administrator's office.
On January 18th, 2017 the Village of Orland Hills Board of Trustees adopted Ordinance #2017-002 amending the Code of Ordinances of the Village of Orland HIlls. Included in this Ordinance is the adoption fo the following codes:
2015 International Residential Code
2015 International Building Code
2015 International Mechanical Code
2015 International Fire Code
2015 International Energy Conservation Code
2015 International Performance Code
2015 International Property Maintenance Code
2015 International Existing Building Code
Illinois Plumbing Code: Latest Edition adopted by the State of Illinois
Illinois Accessibility Code & ADA: Latest Edition Adopted by State of Illinois
The above Building Codes will take effect on all permits submitted starting on February 1, 2017. We will work with you and your employees to make this a smooth transition. A copy of this ordinance wll be made available to you upon request.
Feel free to call the Village if you have any questions: (708) 349-1358